Biography
Pippo Delbono
Director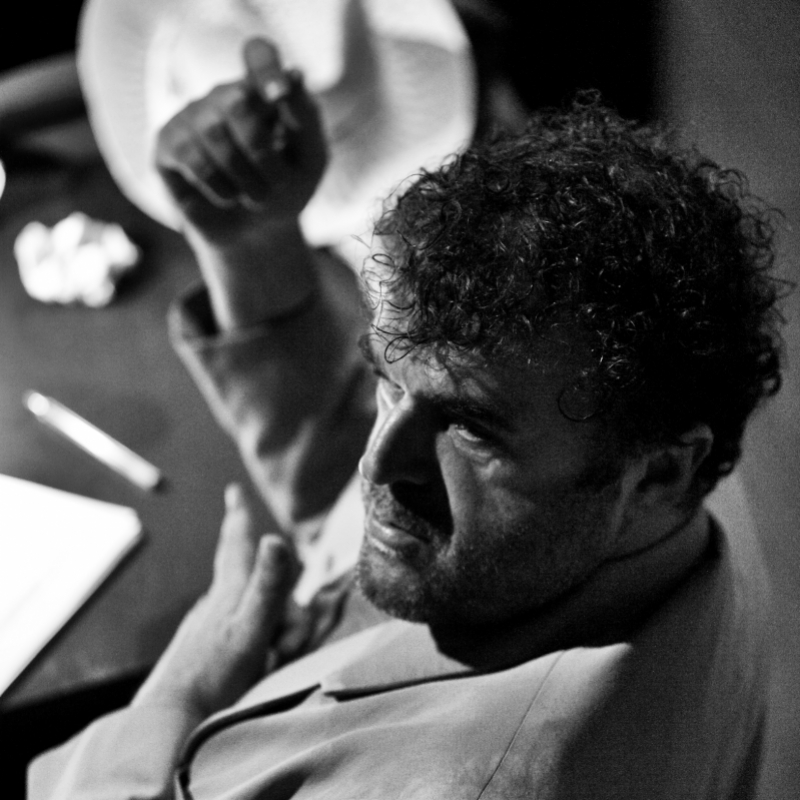 photo Tiziano Ghidorsi
Pippo Delbono (born 1959, Italy) is an author, actor and director. He began training in traditional theatre before studying, in Denmark, the principles of oriental theatre through a rigorous work on body and voice. Later, in Germany, he was invited to follow the work of Pina Bausch.
At the beginning of the 1980s, he founded the Pippo Delbono Company, creating most of his works with them, from Il tempo degli Assassini (1987) to Orchidee (2013). The encounter with socially marginalised people determined a turning point in his poetical research: that's how Barboni (1997) was born. The works that followed, including La rabbia, dedicated to Pasolini, Guerra, Esodo, Gente di plastica, Urlo, Il silenzio, Questo buio feroce, La menzogna, Racconti di giugno, like the ones before, have been performed worldwide in more than 50 countries. Enrico V – his only creation based on an existing play – is the only Italian production of Shakespeare that has ever been invited to perform at the Royal Shakespeare Company. In Wrocław, in 2009, Pippo Delbono received the New Theatrical Realities prize.
For the Teatro Sperimentale of Spoleto, Delbono directed the opera Studio per Obra Maestra (2007), for Teatr Wielki in Poznań, Poland, Don Giovanni (2014) and for the Teatro San Carlo of Naples, Cavalleria Rusticana (2012) and Madama Butterfly (2014).
Delbono has also been investigating the language of film for many years. In 2003, he shot Guerra, presented at the Venice International Film Festival and winner of a David Di Donatello Award for best documentary. He also directed Scream (2006), Fear (2009), filmed entirely with a cellular phone, and Amore Carne (2011), and co-directed Blue Sofa (2009). His latest film, Blood, won the International Federation of Film Societies Award, the Honourable Mention at Lisboa Doc Festival and the Grand Prize of the Public at Zagreb Film Festival. In 2014, the Rochelle Festival held a retrospective of all his films. Delbono was a guest at this year's MFF T-Mobile New Horizons International Film Festival, as well as the subject of a retrospective.
Delbono's acting credits include Io sono l'Amore by Luca Guadagnino, Io e Te by Bernardo Bertolucci, Goltzius and the Pelican Company by Peter Greenaway, Henri by Yolande Moreau, Un château en Italie by Valeria Bruni Tedeschi, Atlit by Shirel Amitay, Pulce Non C'è by Giuseppe Bonito, Transeurope Hotel by Luigi Cinque, Cha Cha Cha by Marco Risi, The Uranians by Gianni Gatti, United Passions by Frédéric Auburtin. He shot a short film called La visite. Versailles with Michael Lonsdale, commissioned by the French Ministry of Culture.
Delbono is the author of Barboni. Il teatro di Pippo Delbono (Ubulibri) and Mon Théâtre (Actes Sud). He has also written Dopo La Battaglia (Barbès), which won the Ubu Prize for best play (2011; with violinist Alexander Balanescu and the Paris Opera Étoile).
In September 2014, he staged the exhibition-performance Ma mère et les autres at Maison Rouge in Paris.