Biography
Director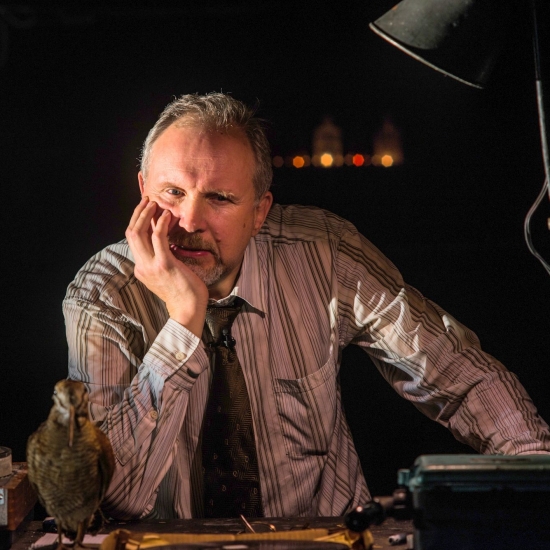 Actor
Description
Max Black, or 62 Ways of Supporting the Head with a Hand is a very explosive work combining music and theatre, which unfolds like a chain reaction: a thought turns into words and then into actions, sounds, fire and smoke. The virtuosity of the restless actor turns all his experiments and actions into a fantastic soundscape. The stage is a laboratory for scientific research that falls outside of the boundaries of traditional scientific endeavour and at the same time offers space for a music theatre work that goes beyond classical genres and can be described as unclassifiable. Max Black is not a biography or a portrait of the influential philosopher and logician of the same name who was born in Baku in 1909 but is inspired by his famous essay On Vagueness, as vagueness is what art is all about. Goebbels abandons traditional dramatic form and discovers a world where machines, fire and electricity, noises and melodies tell their own stories and become instruments that weave a polyphonic tale.
The Stanislavsky Electrotheatre
Composer and director — Heiner Goebbels
Text — based on the notebooks of Max Black, Georg Christoph Lichtenberg, Paul Valéry, Ludwig Wittgenstein
Performer — Alexander Panteleev
Sound design — Willi Bopp, Alexander Mikhlin
Costumes — Jasmin Andreae, Anastasia Nefedova
Lighting and set design — Klaus Gruenberg
Live sampling — Vladimir Gorlinsky
Premiere — 7 October 2015
The show opens up avenues for a dynamic exchange of ideas that defies inaction. The space, at once very concrete and abstract, prompts the audience to double‑check what they see. The texts by Max Black, Wittgenstein, Lichtenberg and Paul Valéry exist on equal terms with the sound, lighting and pyrotechnics.

Max Black is open to every possible interpretation. While watching the performance, you can choose to focus exclusively on the music and visual arts or to tackle the texts used in the production from a philosophical perspective. But this is just one of the thousand possible avenues of interpretation.
Information
Date and hour
Venue
Other details
The show is not recommended to people sensitive to smell of sulfur or suffering from allergy.