Biography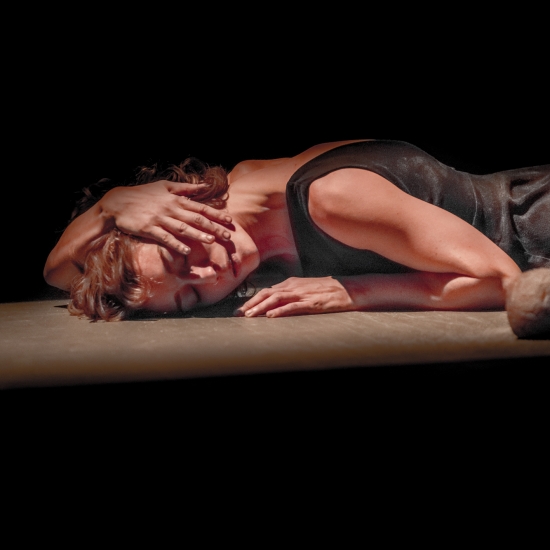 Company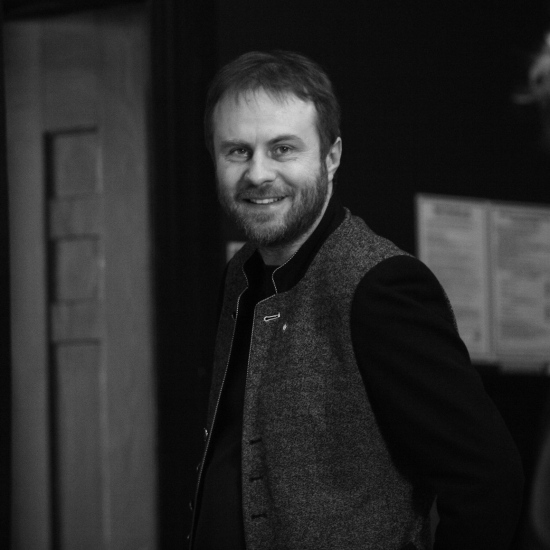 Director
Description
The triptych is dedicated to those who gave us life and those who gave us the voice – to our teachers.
The Gospels of Childhood triptych is a culmination of the company's more than 10 years of work with ancient sacred songs. In 2009, the triptych premiered in London at the Barbican Centre and then was presented in Los Angeles, Wrocław, Florence, San Francisco, Chicago, Sibiu in Romania and in Legnica, Szczecin and Bydgoszcz in Poland. For the triptych the company was named Best New Music Theatre by The Los Angeles Times in 2009, and in October 2010 it was honoured with the Wrocław Theatre Prize.
The triptych consists of following parts: Overture, Caesarean Section: Essays on Suicide and Anhelli: The Calling. Through a long process of creating its own theatrical language each part draws on music from numerous traditions.
In Overture oscillating between two threads: the story of the resuscitation of Lazarus evoked through the mouths of Marta and Maria, his sisters and 'the testimony of Mary Magdalene' particularly important was the work with the Svaneti people, who live in the highest part of the Caucasus mountains. In their tradition they have funeral songs which have their roots in the beginning of our era. The second musical plot consists of liturgical songs from the Orthodox Republic of Monks, Athos.
The title of Caesarean Section: Essays on Suicide is a metaphor for suicidal compulsion and the involuntary force that pulls us back from the brink. The performance's musical structure was developed from a base of polyphonic Corsican songs, into which Bulgarian, Romanian, Icelandic and Chechen songs were woven. During the research process, members of ZAR made several trips to Corsica in search of new material for the emerging musical score. Their active participation in paschal liturgy in Tox near Bastia represented a pivotal moment. Therefore the climax of the performance is characterised by the liturgical music of Corsican confraternities.
Anhelli: The Calling is a tribute to the Polish Romantic poet, Juliusz Słowacki and his journey from Naples to the Holly Land, via Alexandria, Cairo and Damascus. Anhelli's theme is a phenomenon that Theatre needs to face in order to protect its essence and its place in this world. It is the theme of the integrity of our life, of our corporality, of our own selves. The theme of possession. Of making a vessel for a different life, even a future one, out of our own selves. The theme of illuminating, of 'over-angeling'. Of being possessed by an angel. The musical core of the performance is based on Byzantine and Sardinian Paschal hymns.
Teatr ZAR
Performers ― Przemysław Błaszczak, Ditte Berkeley, Nini Julia Bang, Alessandro Curti, Jean François Favreau, Jarosław Fret, Kamila Klamut, Aleksandra Kotecka, Matej Matejka, Ewa Pasikowska, Orest Sharak, Tomasz Wierzbowski
Project leader and lighting ― Jarosław Fret
Music collaboration ― Mariana Sadovska
Collaboration on the movement score ― Vivien Wood
Premiere ― 24 September 2009 (London)
What makes the performance so special is not only the physicality of the piece, but the music and soundtrack, which is beautifully performed. String section, piano and accordion intertwine with the actors on stage to heighten the tension and deliver the subject.

Steven Fraser | The Skinny

This astonishing cast fling their bodies around and also play several instruments and sing beautifully. You could close your eyes and have a perfectly rewarding evening.

Chris Jones | Chicago Tribune

We don't leave depressed, yet rather coursed through with a sense of potency, of mortality, and of the vibrancy of life and human spirit. An extraordinarily potent work.

Mim King | Total Theatre Review

Jarosław Fret treats the human body as a repository of collective memory, precisely orchestrating the liminal experiences of a community. In his score, he hones symbolic gestures, facial grimaces, entangled bodies and the tunes of Byzantine, Sardinian, Georgian and other liturgical songs. […] The director keeps on exploring his trademark subject of musical memory, which holds so much fascination for him.

Agata Diduszko-Zyglewska | Dwutygodnik